All you need,
to give all you want.
The most advanced charitable platform,
build to scale with your giving ambitions.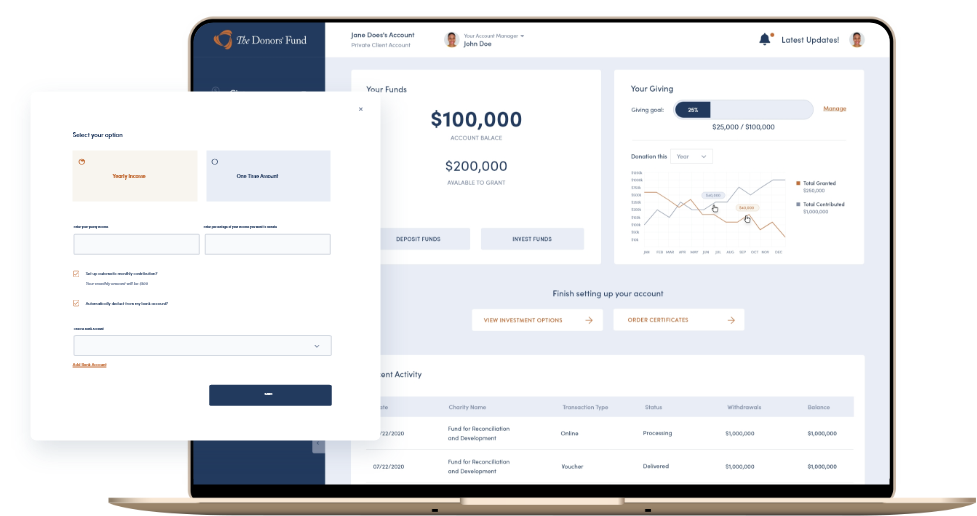 Core Benefits
DAFs at a glance

Instant tax deductions

Retain granting control

Flawless, unified receipts

Retain your anonymity

No distribution minimums

No accounting/legal fees

No 501(c)(3) verification

Write off up to 60% of income

Deduct donated assets at fair market value
Highlights
Giving Features
Give Without Limits

No grant minimums enables you to support more causes

Giving Cards

Get a personalized card to swipe at any charity with security and traceability.

Checks

Order checks in custom denominations and track each check's status in real time

Bank-Like Portal

Log in anytime to securely make and schedule one-time or recurring grants

ChariDataTM

Research charities' financials and activities to get proprietary insights and make more strategic grants

Mobile App

Manage your giving and your account from any smart device

Contactless QR Codes

Charities print QR codes on their materials, and donors scan with their smartphone to make instant, contactless grants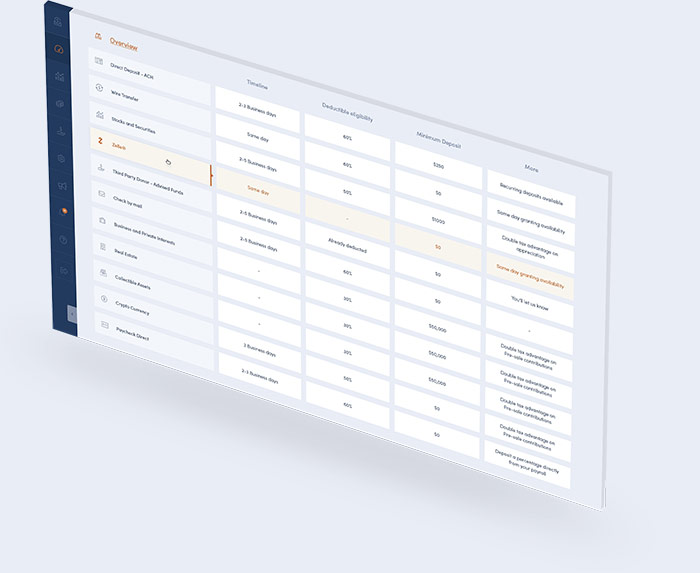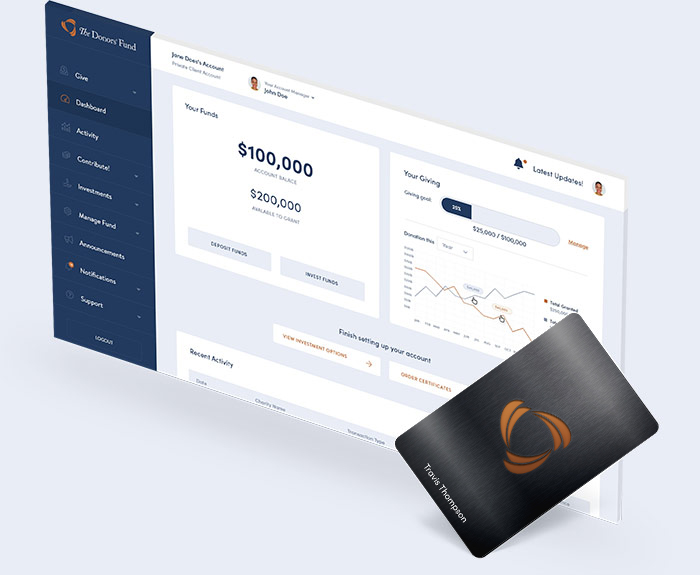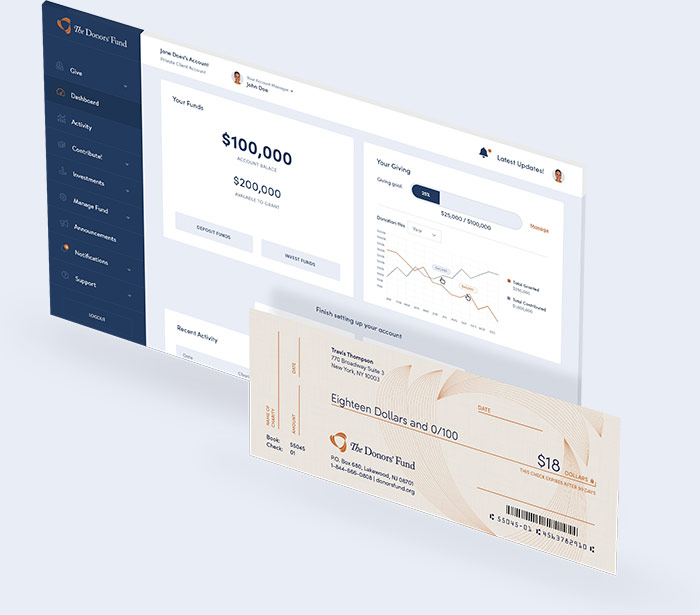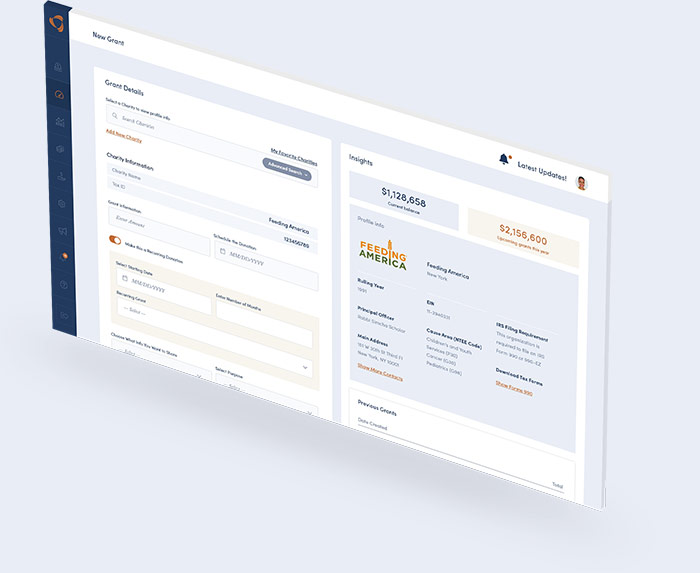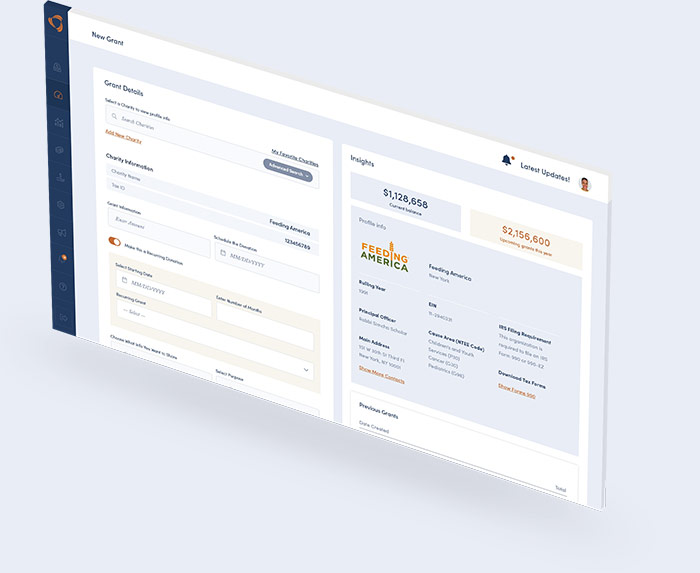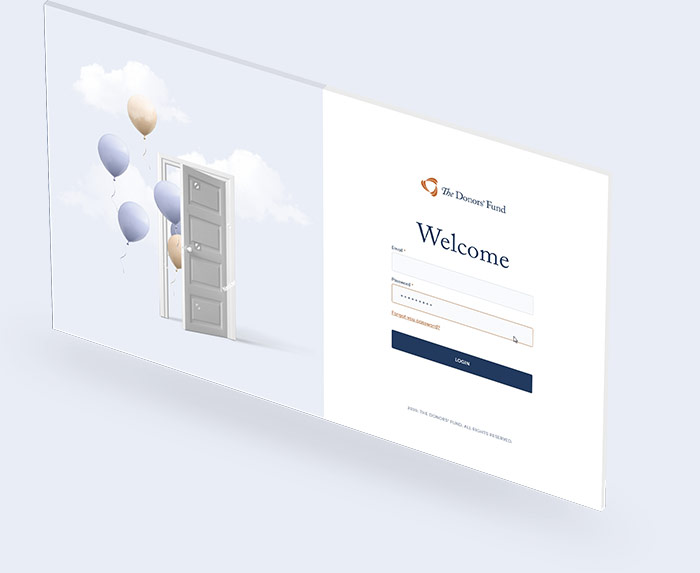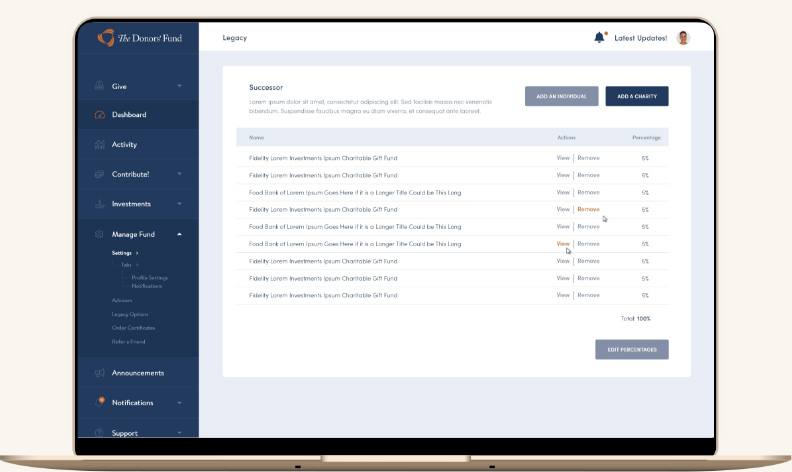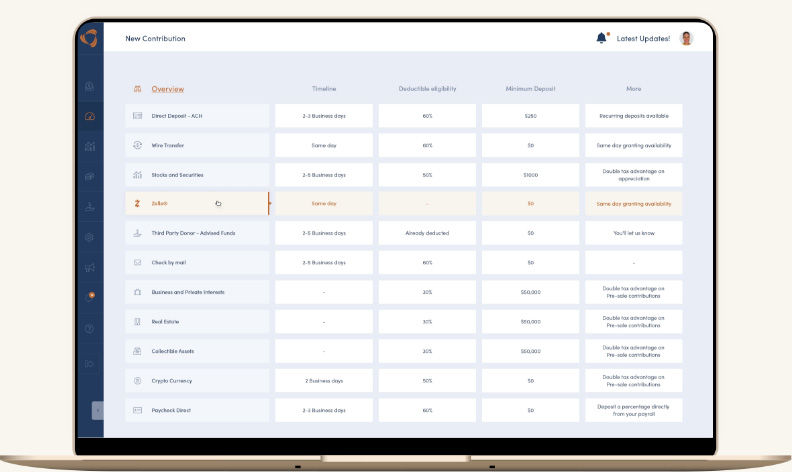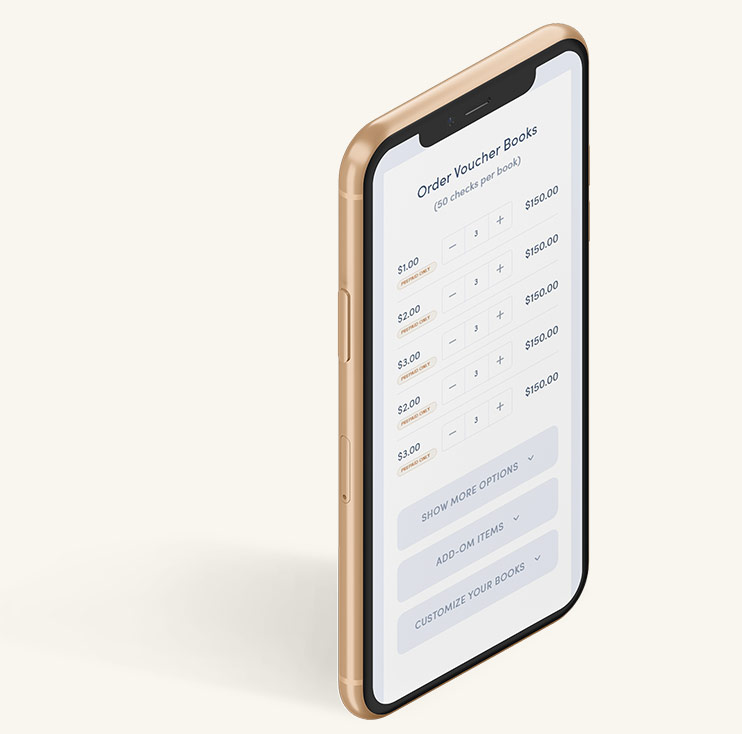 Management Features
Legacy Planning

Leave an impact that
lasts beyond your lifetime

Succession Plans

Transfer granting rights to one or multiple successors

Endowment Plans

Endow remaining funds to one or multiple charities

Flexible Deposits

Fund your account in many ways

Checks
Direct Deposit via ACH
Wire Transfers

Stocks & Securities

Including mutual fund shares and bonds

Real & Collectible Assets

Residential and commercial real estate

Artworks and jewelry

Collectibles and automobiles

Business & Private Interests

Corporate stocks, private equity, and more

3rd-Party Donor Advised Fund

Transfer funds from your existing DAF to your new Giving Account

Oversee your pocket, from your pocket

All the power of your online account, now at your fingertips in real time.

Check balances, activity and documentation

Make deposits, grants and account upgrades
Growth Giving TM
Investment options to grow your funds and impact
Choose from our carefully selected investments portfolios, all managed by the world's leading financial institutions.
Investments managed at your direction

Grow charitable funds while deciding on charities

Multiple portfolios and risk profiles available

Appreciation is tax-free and 100% grant-able
Portfolios Overview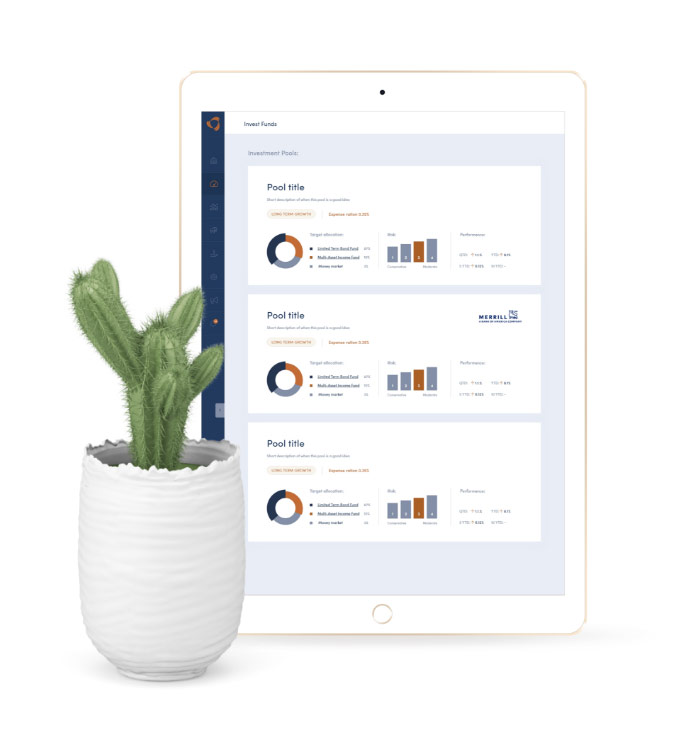 Private Client Suite
Even more power for
more sizeable donors
Want to donate securities or real estate assets? Need to transition from a private foundation?
As your charitable activities grow, we help your administrative activities shrink. That's how you stay Free to give TM.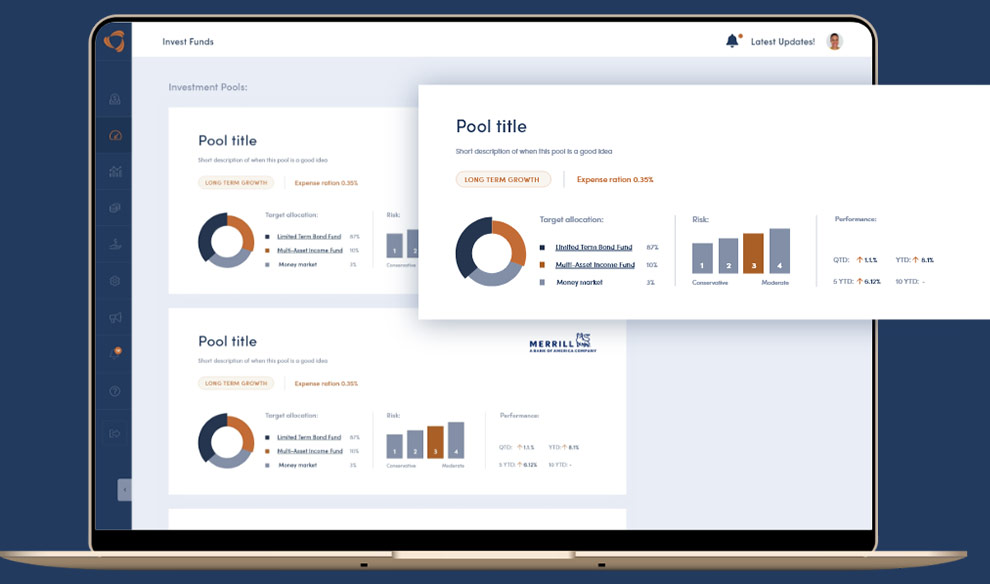 Fees reimagined
How do we set
your giving free?

Donors
No tier-based rates.
No hidden fees.
No transaction fees.
Just simple, free giving.
Charities
Processing fees
How It Works
Give right now,
or at the right moment.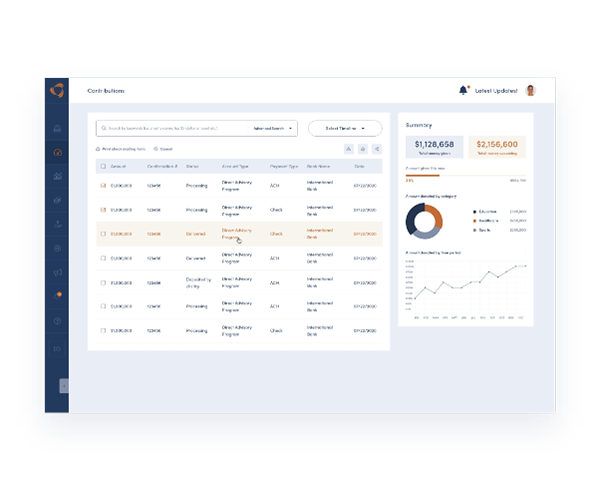 Step 1: Deposit
Transfer funds, enjoy tools
Open a free giving account in minutes

Contribute funds or most other assets

Qualify for a full, immediate tax deduction

Track contributions and grants online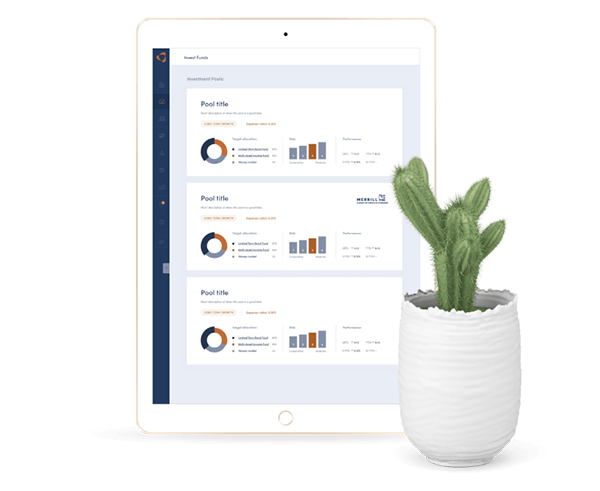 Step 2: Invest
Grow assets, shrink taxation
Advise how your funds should be invested

The Donors' Fund stewards all investments with great care

Growth is tax-free, enabling greater impact

Assets may be assigned to advisors or others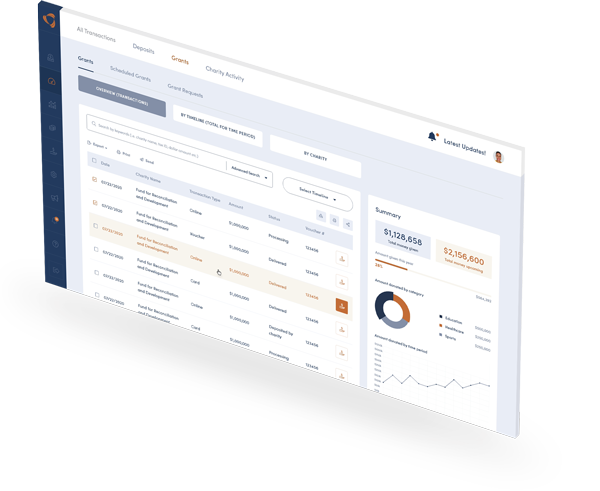 Step 3: Grant
Realize vision, escape burdens
Discover charities aligned with your passions

Recommend grants through The Donor's Fund's many tools

The Donor's Fund verifies 501(c)(3) status and executes grants

Access documentation and reports on demand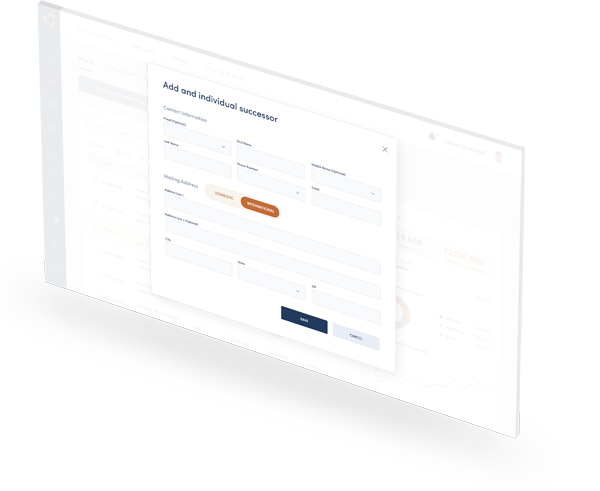 Step 4: Eternalize
Create legacy, give forever
Build out your succession or endowment plan

Evolve your plan as your charitable assets grow

Enjoy 1:1 guidance to rally family around plan

Leave a legacy of giving to the next generation